It's about that time in the season when predictions are foretold about what's to come in the following year. Although I don't yet have a crystal ball at hand, I can feel a buzz that resonates with me right now. It's all about Voice. This form of Voice will encompass our world again, develop our interaction with everything around us, and people will ask whether we have been here before. Next year isn't going to be just different, it will change us in profound ways.
A Little History About Voice 1.0
I feel we have come full circle with how we use voice in our interaction with technology. It all started from voice and slowly it migrated to the punch card systems of storing data in the 1800s. This wasn't efficient enough so the QWERTY keyboard rose into our collective psyche, quickly followed by the most common form of the electric keyboard we know of today in 1941.
After just three decades, the microcomputer from IBM would nail it for us as a species. Human interaction and excitement with everything new, was evolving with the trackballs, joysticks of the 80's, the first mice driven pointing devices to work with GUI's and now touch (in that order). They all kept up with our pace and changed the way we live, communicate and develop new connections with our perceived world. Just for context, Touch 3.0 was the advent of the iPhone generation of devices.
The Platform Generation
Ambient devices is the next wave to hit us like a tsunami and it's here to stay. It's all part of the technological evolution that takes place every half decade or so. 2018 is not just another year, it will be a pivot. 48 months or so after that, we will all have ambient devices around us. All listening passively like a genie in the bottle for our next command, our next wish for the search of knowledge, hidden somewhere in the data centres of Google, Amazon and Apple.
Those are the three main players right now, but I wouldn't be surprised if this white space is filled by new companies. One's which aren't even in the technology space. Now that would be super disruptive, imagine Honda or Condé Naste entering a completely new infant platform, right from the very beginning. Capital One is the first bank to have a voice payment facility. You know where this is going.
Voice will be the next white space platform we will need to think deeply about. How we use it, what we do with it, what we gain from it in the long run, is up to us. As someone who embraces the technological advances that develop, for the benefit of our clients and ourselves, it seems this space of activity will be frenzied at first. The opportunities in this space are unbelievable and won't be fully realised until we know how good the technology is. That takes time.
What we do know is that Voice search has surged in recent years as computing power has evolved. Natural language recognition and learning has now caught up with us.
Voice Word Accuracy Rates Improving Rapidly with +90% Accuracy for Major Platforms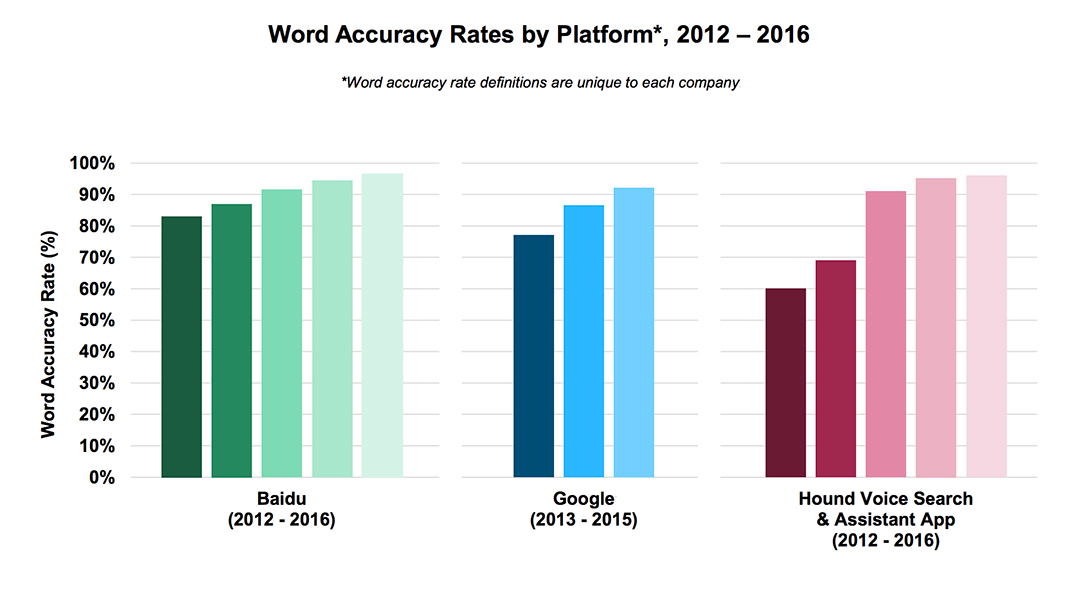 Source: Baidu, Google, VentureBeat, SoundHound
Voice Gaining Search Share – USA Android @ 20% – Baidu @ 10% – Bing Taskbar @ 25%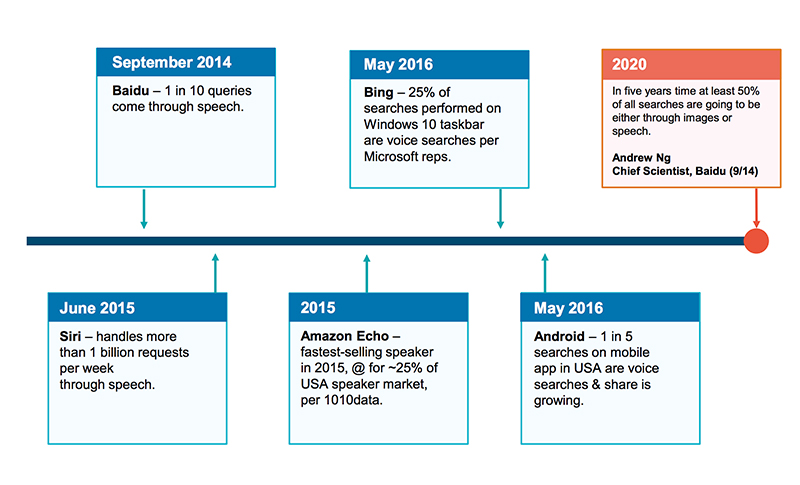 Source: Baidu World 2014, Gigaom, Gadgets 360, 1010data, MediaPost, SearchEngineLand, Google I/O 2016, ComScore, Recode, Fast Company
We type at 40 words on average per minute, and speak at 150 words. It was only a matter of time before Google and other big tech firms used our search terms, developed even more powerful algorithms of recognition, and unleashed new ways of getting what we really want without having to type it up anymore. Screen based interaction is becoming the billboard and Voice is back.
Ambient Devices
The usual suspects are all in of course and so far, have badly directed ads to entice us into buying their products and joining their eco-system. Google with Home, Amazon with Echo, and Apple finally pulling it's finger out with the HomePod using Siri, it seems marketing will have a new set of rules. All written by agencies that are ready to jump on board.
The only problem with these ambient devices is that they assume much from us, and it all seems artificial. For now at least. I would have to be totally immersed in the device and its eco system for it to be a part of my family or business. That's not to say I won't be investing a shed load of time trying to figure out how to sell through this platform, but it will take convincing. Making my job a little more challenging, as people struggle to shave off time to be there first.
We have a problem with time, always have and always will. We don't like latency, and hate waiting for something we feel should be with us now. Mix low latency and accuracy? Now that's a winning formula for a speech system that will be productive. Not a big trekki fan but this scene seems quite apt. Who knows, maybe Boeing is already making see through metals.
I used to complain to friends when progress bars appeared on my screen, back in the old days of Photoshop and page layout apps. The obligatory beach ball from Apple was a complete kick in the nuts. Why can't they create a computer that works as fast as me? It wasn't ready for us then but now it seems, it's caught up. Are we ready for it?
If you've been late on social media, podcasting and vloging, you'll find your place soon enough. Enter a brand new platform to work with. Voice 2.0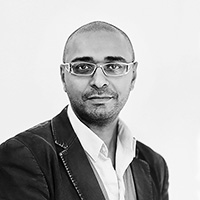 Hash Varsani
Digitalist | Entrepreneur
Hash is an entrepreneur, digital evangelist and creative thinker at Creacomp.
An autodidact and seasoned digital professional, he advises and counsels businesses on creating more value and worth, using the full spectrum of digital channels available.